Rebecca D. Louks Waigand Honored for Community Service by Ohio State Bar Foundation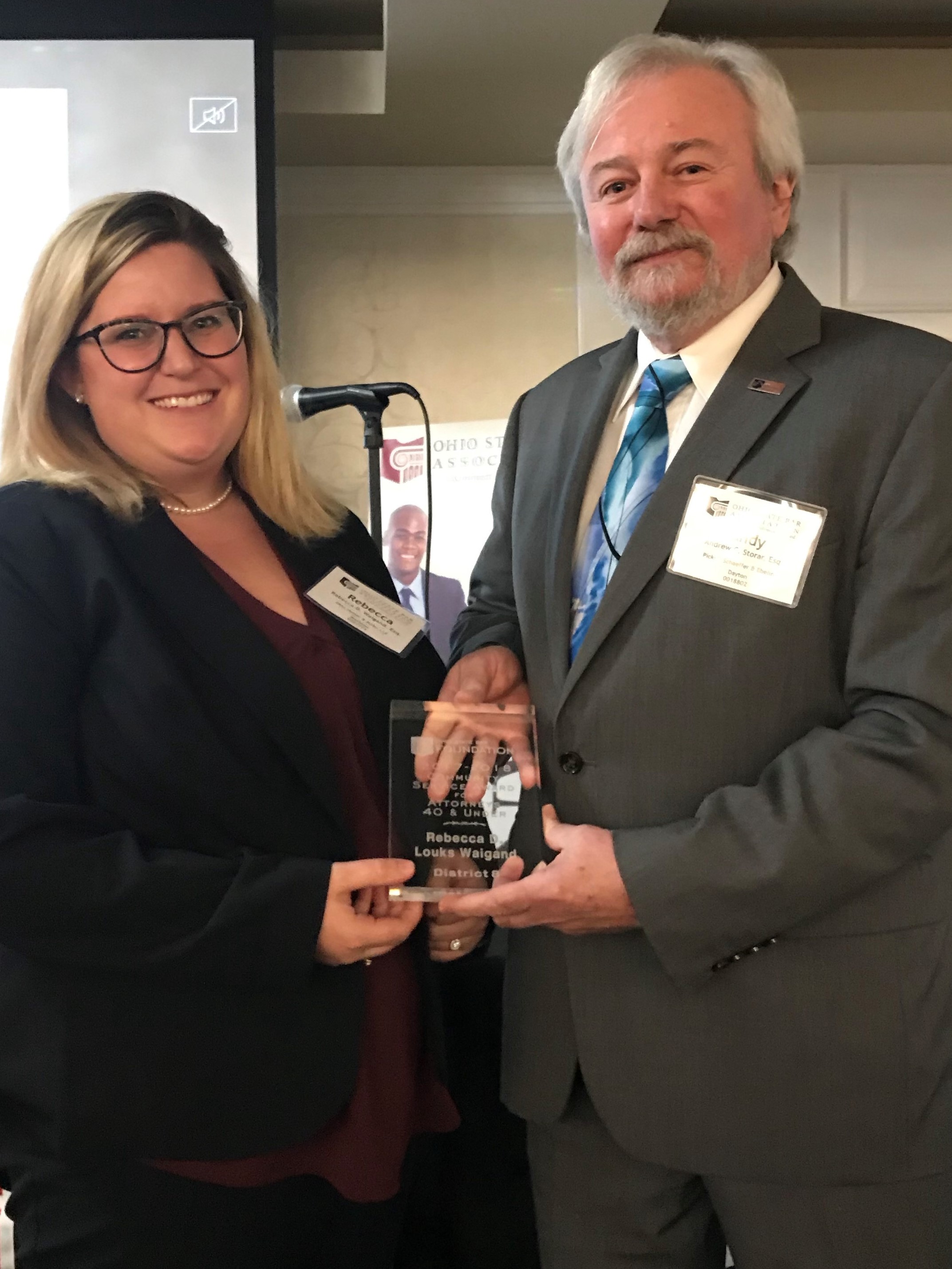 Columbus, OH (Nov. 9, 2017) - Rebecca D. Louks Waigand received the Ohio State Bar Foundation's District 8 Community Service Award for Attorneys 40 & Under on November 9, 2017.
Louks Waigand is demonstrating to the world the impact and influence attorneys can have on their communities – she is in fact, the very essence of excellence in our profession. Rebecca graduated from the University of Toledo, College of Law and has been practicing in Jackson County at Oths, Heiser, Miller, Waigand & Clagg, LLC since 2011. However, in her spare time, she is leading the next generation of volunteers through her service.
Louks Waigand began volunteering in law school as a CASA (Court Appointed Special Advocate) volunteer, serving as a voice and advocate for children who've been abused and neglected and are now in the court system.
As a leader in the Chillicothe Jaycees, a global service organization with thousands of chapters that provide community service through volunteer work and support of other non-profits, Louks Waigand works hard to make a difference her in community and make the greater Chillicothe area a better place for all residents.
"My husband and I joined the Jaycees because we were looking for something to do where we could give back to the community, and where we could meet new people that also enjoyed community-centered work," Louks Waigand shared.
Rebecca chaired the Annual Easter egg hunt and supervised the placement of over 12,000 eggs for children to find in a local park. She also co-chaired the Jaycees Special Santa 5K with proceeds going to purchase gifts for children in Ross County for the holidays.
During the holidays, Rebecca also organized a toy and coat drive benefiting Jackson County Children's Services and during a town Christmas festival opened the doors of her firm to the community with cookies decorating and a visit from Santa.
About the Award
The Community Service Award for Attorneys 40 and Under is presented to attorneys, 40 years of age or younger, who contribute substantial time and effort in service to a local social service or to a local civic, artistic or cultural organization. The service must be outside the recipients' practice of law and given without compensation. Emphasis is placed on current service. Recipients represent the ideals of the legal profession and, by example, are a credit to the profession.