Stephan P. Babik Honored for Community Service by Ohio State Bar Foundation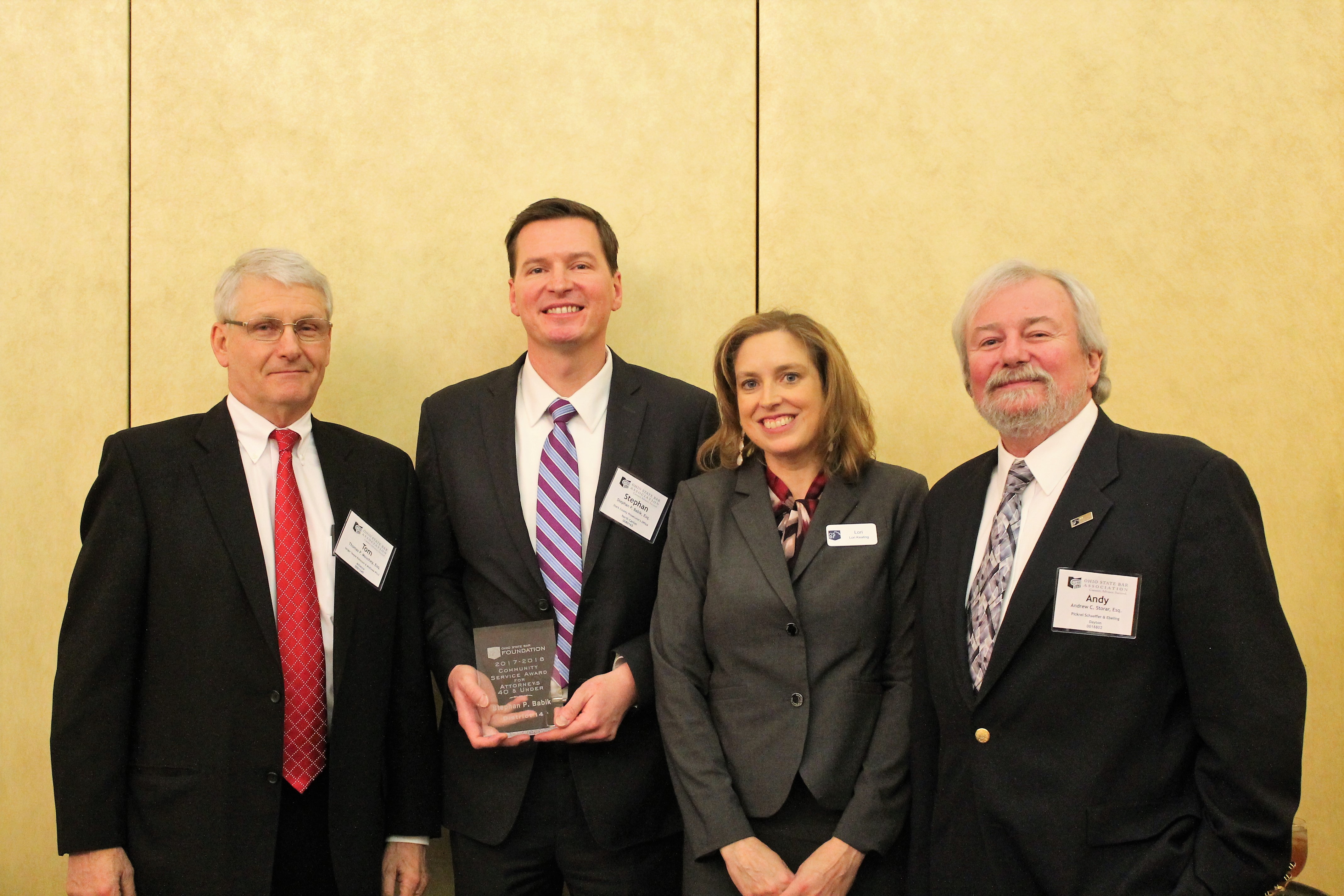 Columbus, OH (Nov. 16, 2017) - Stephan P. Babik received the Ohio State Bar Foundation's District 14 Community Service Award for Attorneys 40 & Under on November 15, 2017.
Babik is demonstrating to the world the impact and influence attorneys can have on their communities – he is in fact, the very essence of excellence in our profession. Stephen graduated from Duquesne University School of Law in Pittsburg and now practices as an Assistant Prosecuting Attorney in the civil division of the Stark County Prosecutor's Office, however, in his spare time, he is leading the next generation of volunteers through his service.
A member of the Community Involvement Committee for the Stark County Bar Association, Babik planned a number of events that benefited charities, including a partnership with the University of Akron Law School Alumni Association that raised more than $15,000 in proceeds that were donated to Pegasus Farm in Hartville, OH which provides therapeutic horseback riding for people with disabilities.
He's also participated in food collection drives, clothing drives, and a clean-up of Stadium Park.
As Chair of the Stark County Bar Association Technology Committee, Babik has played a key role in invaluable content for the community by promoting events, the process to obtain an attorney, actions to dispute grievances and more.
Although Babik is now based in his home county, while working in Cleveland, he participated in the Cleveland Metro Bar Association and taught government and constitutional law to high school students, preparing them for the Ohio Graduation Test and exposing them to working knowledge of how the government functions.
About the Award
The Community Service Award for Attorneys 40 and Under is presented to attorneys, 40 years of age or younger, who contribute substantial time and effort in service to a local social service or to a local civic, artistic or cultural organization. The service must be outside the recipients' practice of law and given without compensation. Emphasis is placed on current service. Recipients represent the ideals of the legal profession and, by example, are a credit to the profession.