Jeanna V. Jacobus Honored for Community Service by Ohio State Bar Foundation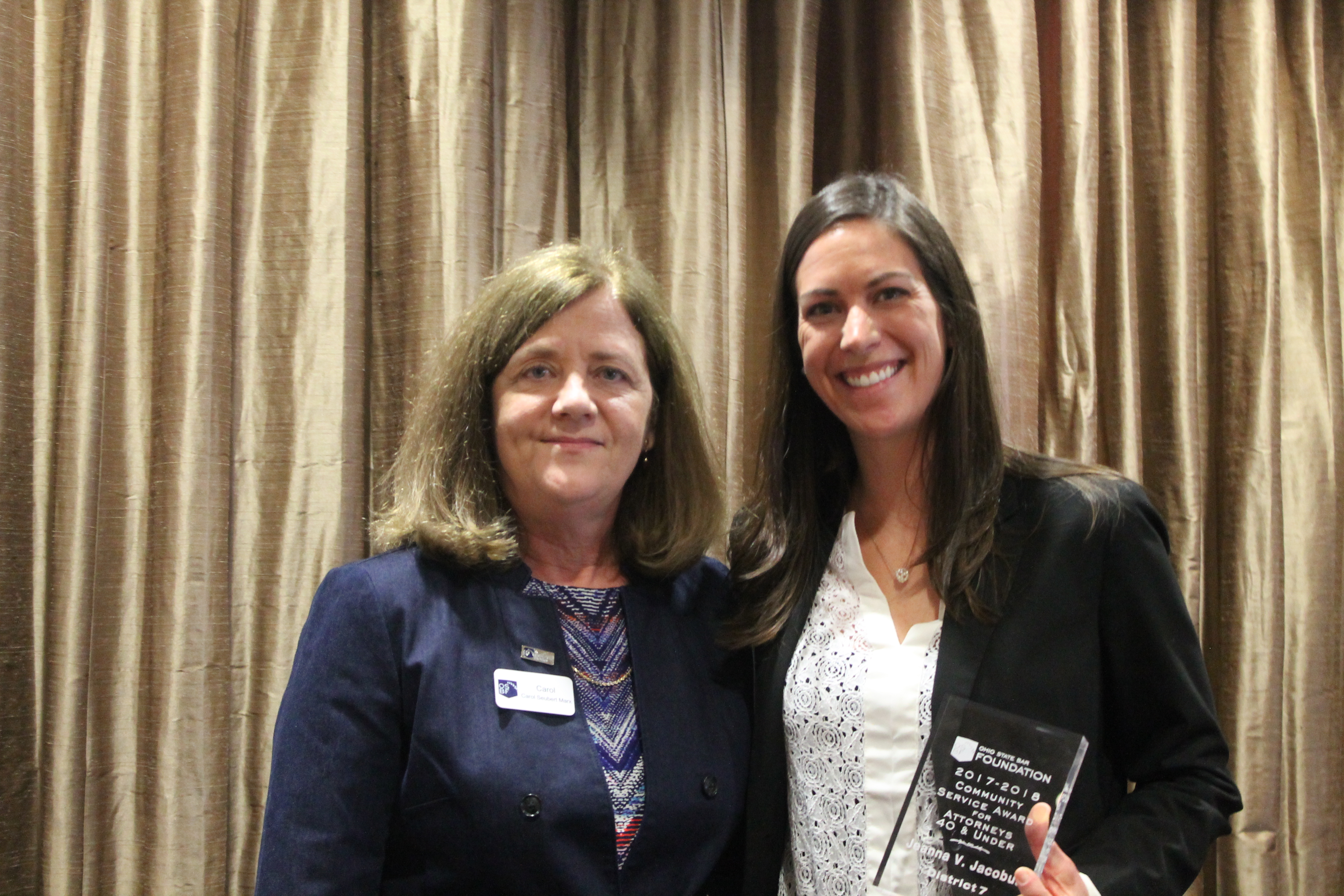 COLUMBUS, OH (February 27, 2018) - Jeanna V. Jacobus received the Ohio State Bar Foundation's District 7 Community Service Award for Attorneys 40 & Under on February 21, 2018.
Jacobus is demonstrating to the world the impact and influence attorneys can have on their communities – she is an outstanding example of what is right about the legal profession. Jacobus graduated from The Ohio State University Moritz College of Law and now practices as Senior Assistant Attorney General in the Ohio Attorney General's Office in the Court of Claims Defense Section. However, in her spare time, she is leading the next generation of volunteers through her service.
An avid contributor to her community, Jacobus serves as an adult leader and mentor of the Westerville Christian Church, where she attends mission trips, volunteers as a barista in the café, serves as an official for Above the Rim Youth Basketball program and a leader of senior girls. She has been a fundraiser in her office for the Operation Feed campaign through the Mid-Ohio Foodbank and is a former volunteer at the Ronald McDonald House of Columbus, where she especially enjoyed serving as a friend and resource for families living there during challenging times.
The Ohio State Bar Association recognized Jacobus and her efforts by selecting her to participate in their 2016 Leadership Academy, a program designed to identify and train lawyers for future opportunities in leadership, to nurture community service and build relationships with legal leaders across the state. She also participated on the 2016-2017 Ohio Center for Law-Related Education Mock Trail Case Committee. During her time at the Attorney General's Office, Jacobus has served as a Section Charitable Activities Coordinator and Teen Ambassador Board Mentor.
As described by her colleague and nominator, Velda K. Hofacker, "Although all her service is impressive, the most outstanding quality Jeanna possesses is her willingness to go to any length to help others. Jeanna Jacobus not only represents the ideals of the legal profession, but she is an asset to the profession, her church, her neighborhood and the central Ohio community."
About the Award
The Community Service Award for Attorneys 40 and Under is presented to attorneys, 40 years of age or younger, who contribute substantial time and effort in service to a local social service or to a local civic, artistic or cultural organization. The service must be outside the recipients' practice of law and given without compensation. Emphasis is placed on current service. Recipients represent the ideals of the legal profession and, by example, are a credit to the profession.