Elizabeth E.W. Weinewuth Honored for Community Service by Ohio State Bar Foundation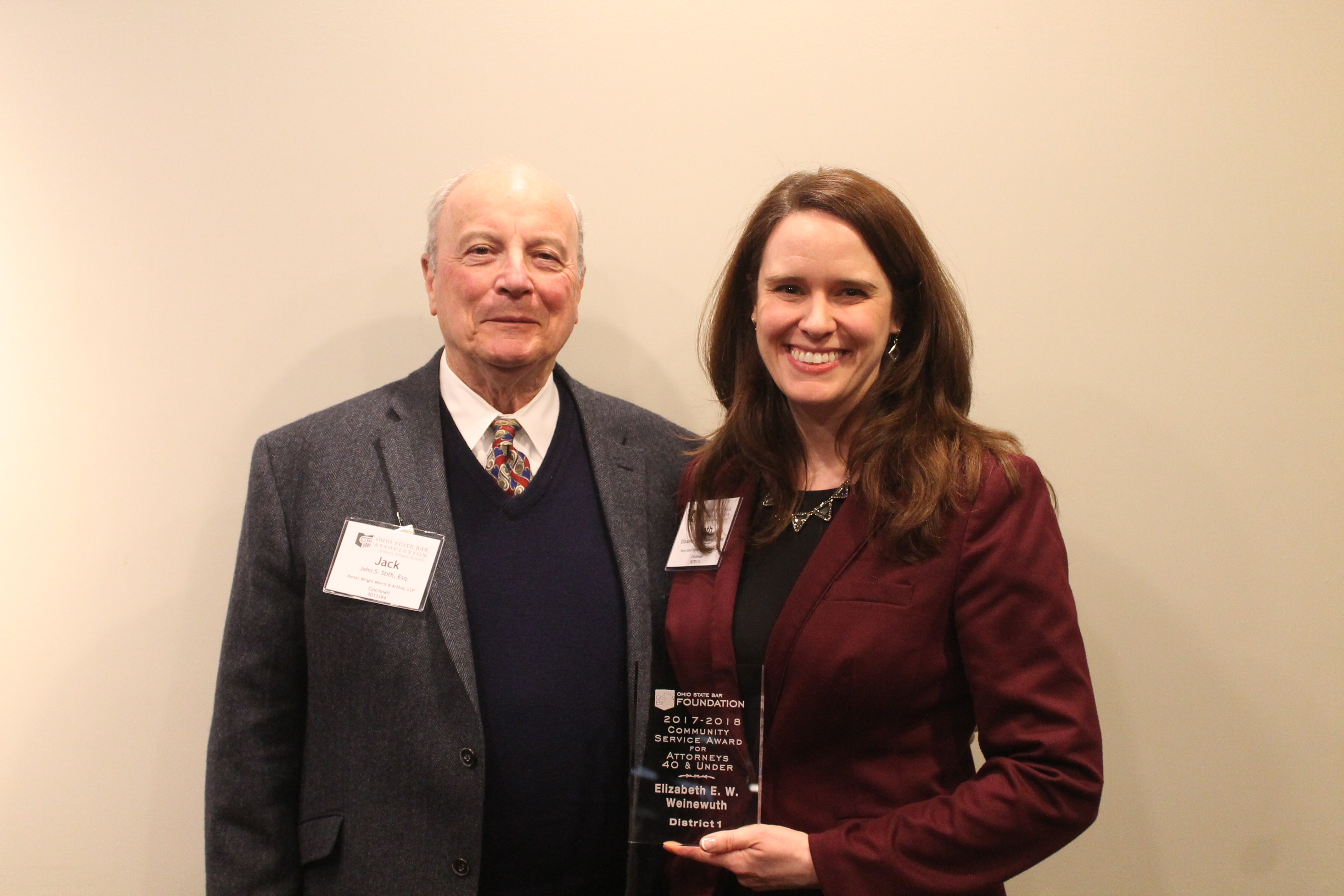 COLUMBUS, OH (March 6, 2018) – Elizabeth E.W. Weinewuth received the Ohio State Bar Foundation's District 1 Community Service Award for Attorneys 40 & Under on March 5, 2018.
Weinewuth is demonstrating to the world the impact and influence attorneys can have on their communities – she is in fact, the very essence of excellence in our profession. She received her J.D. from the University of Cincinnati College of Law and is now working in the areas of litigation, trusts, estates and wealth transfer for Vorys' Cincinnati office. However, in her spare time, she is leading the next generation of volunteers through her service.
Weinewuth is a devoted member of Episcopal Church of the Redeemer, where she serves as a member on the Vestry Board to help plan for the future of the ministry, assists with the teaching of the 'Godly Play" curriculum for preschoolers with the Family Ministry team, brings hot meals to members in need with the Main Dish Ministry and sings with the adult contemporary band. Through church partnership, she hosts homeless families for Interfaith Hospitality Network of Greater Cincinnati and volunteers by leading activities for the children of the guests.
Weinewuth is dedicated to improving her community through her work with the Great Parks of Hamilton County, where she has provided active committee service since 2013 and now serves as treasurer for its political action committee, Friends for Great Parks. She has held leadership roles with her neighborhood civic association, planning events and activities that provide opportunities for fellowship and community pride. She also provides pro bono legal work through the Volunteer Lawyer's Project.
When asked what she finds most rewarding about volunteering, Weinewuth said, "The most important and rewarding volunteer work that I do is that which expands my understanding of the perspective and needs of my neighbors. Whether it is neighbors who are less fortunate financially, or neighbors who are (like all of us) are hungry for meaningful connection, being allowed the privilege of understanding them and their experience of the world better is what is most meaningful to me."
About the Award
The Community Service Award for Attorneys 40 and Under is presented to attorneys, 40 years of age or younger, who contribute substantial time and effort in service to a local social service or to a local civic, artistic or cultural organization. The service must be outside the recipients' practice of law and given without compensation. Emphasis is placed on current service. Recipients represent the ideals of the legal profession and, by example, are a credit to the profession.