Joshua M. Kin Honored for Community Service by Ohio State Bar Foundation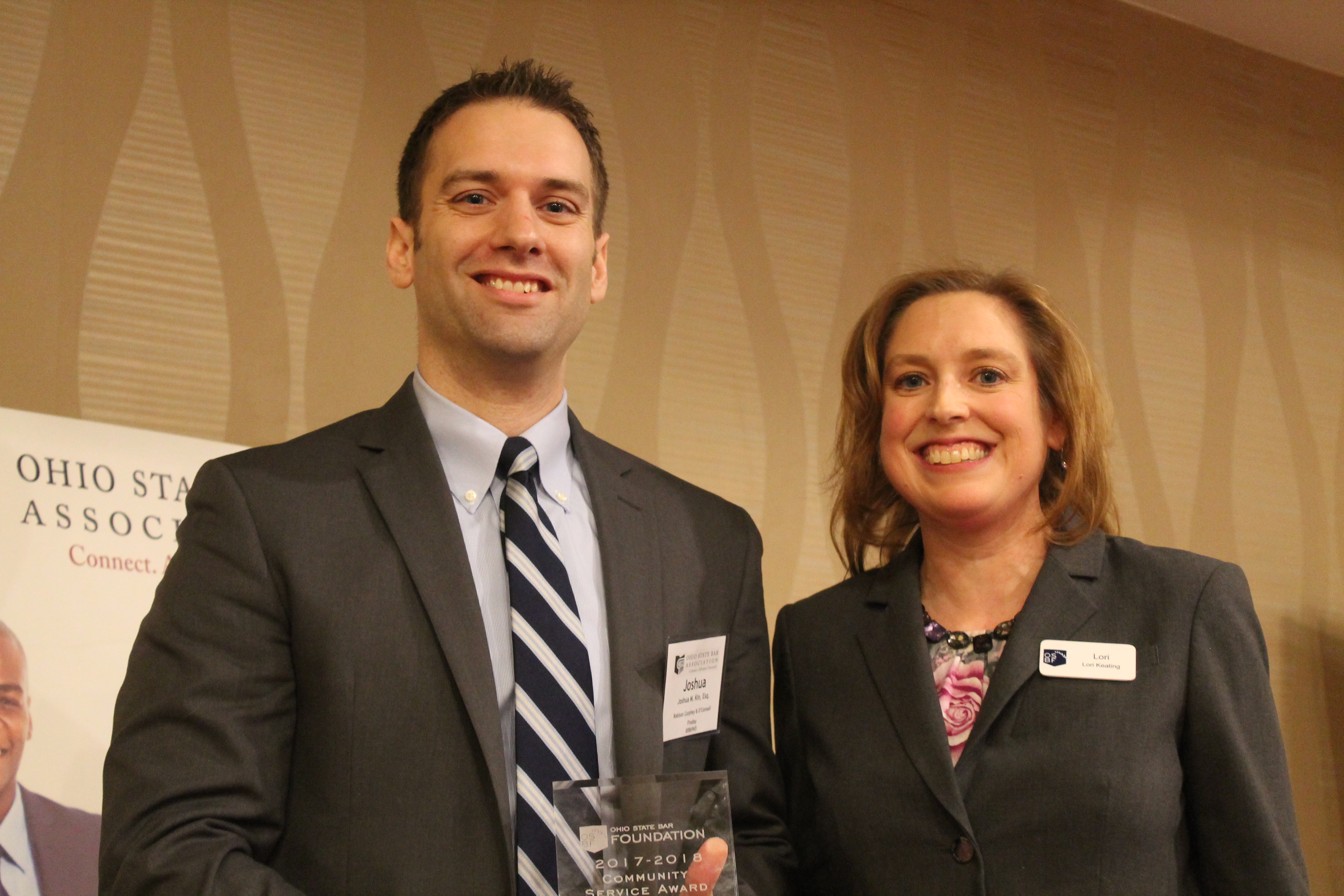 COLUMBUS, OH (March 7) – Joshua M. Kin received the Ohio State Bar Foundation's District 2 Community Service Award for Attorneys 40 & Under on March 6, 2018.
Kin is demonstrating to the world the impact and influence attorneys can have on their communities – he is in fact, the very essence of excellence in our profession. He received his J.D. from the University of Dayton School of Law and is an associate at Robison, Curphey & O'Connell in Findlay, Ohio, where he has broad litigation practice. Kin has continued to collect accolades for his superior work being named a 2017 and 2018 Super Lawyers Rising Star, selected as a 2016 Ohio State Bar Association (OSBA) Leadership Academy participant and honored with the prestigious OSBA Rising Litigator Award in 2015, awarded to two lawyers in the state of Ohio by members of the litigation section of the OSBA.
In his spare time, he is leading the next generation of volunteers through his service. In 2014, he was selected to participate in Leadership Dayton, a development program designed to motivate a network of community leaders and as a result Kin and his classmates served as mentors for those in the Miami Valley area. Kin also volunteers his time to serve as a board member at Century Health, a nonprofit providing treatment for mental health and substance abuse issues, and as a board member at Building Bridges, a nonprofit helping at-risk youth involved in the juvenile court system.
After returning to his hometown of Findlay, Ohio, Kin has devoted his time to working in the Findlay City School system serving as a judge and mentor for the "Big Shake," which empowers and teaches elementary students the skills necessary to interview for jobs and gain confidence in social interactions. He volunteers on a weekly basis in the school district by helping students develop reading proficiency and life skills.
Kin has also been active in the Kettering, Moraine, Oakwood Chamber of Commerce and was awarded for his time and efforts as their 2015 Volunteer of the Year. He's been very engaged in fundraising for the YMCA and their summer camp initiatives for disadvantaged youth.
When asked how volunteering has changed his view of the world, Kin said, "It opens your eyes to the fact that everyone is dealing with something and sometimes just being a friend can make the world of difference in someone's life. It doesn't always take a lot of effort."
About the Award
The Community Service Award for Attorneys 40 and Under is presented to attorneys, 40 years of age or younger, who contribute substantial time and effort in service to a local social service or to a local civic, artistic or cultural organization. The service must be outside the recipients' practice of law and given without compensation. Emphasis is placed on current service. Recipients represent the ideals of the legal profession and, by example, are a credit to the profession.