W. Andrew Joseph Honored for Community Service by Ohio State Bar Foundation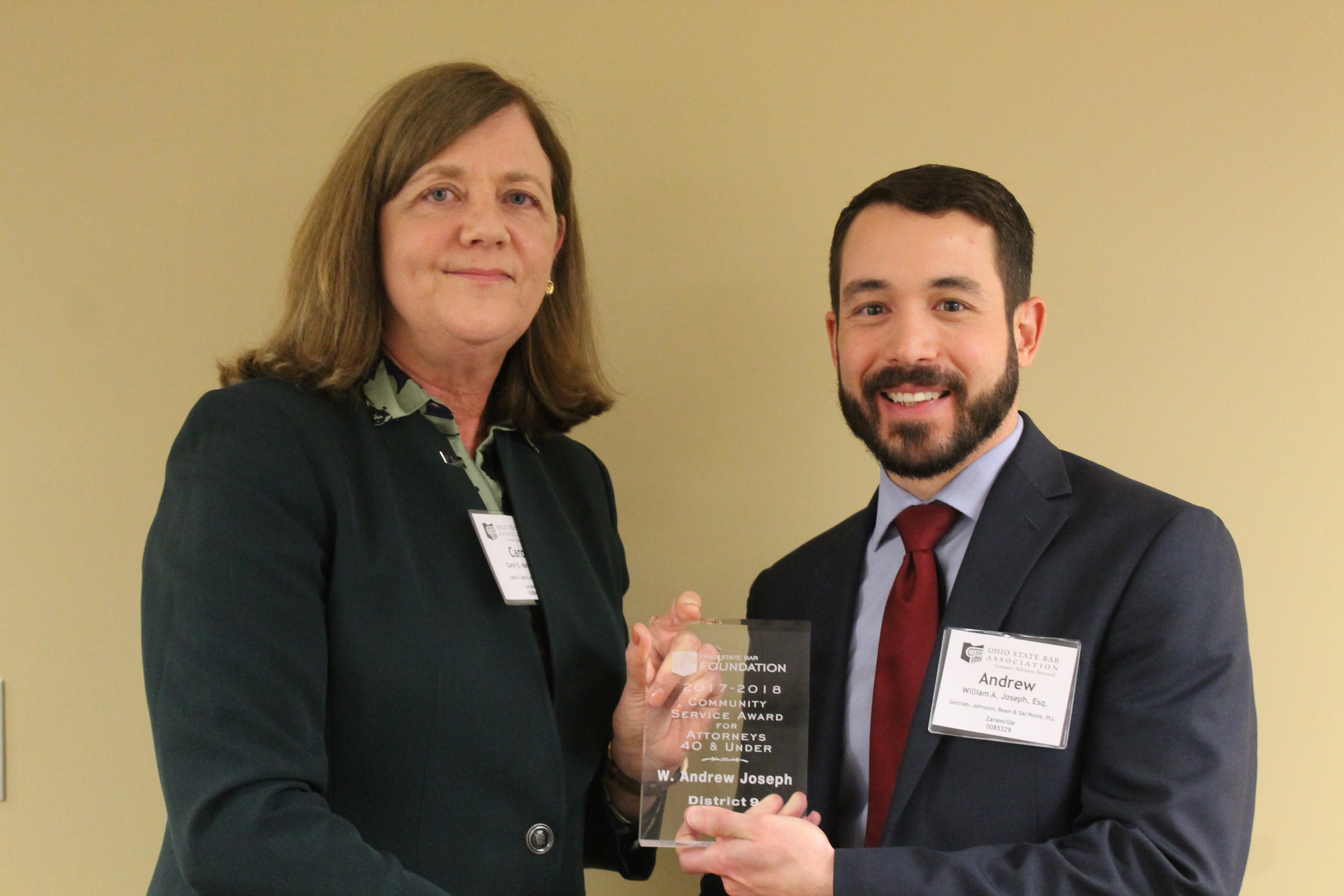 COLUMBUS, OH (March 30, 2018) – W. Andrew Joseph received the Ohio State Bar Foundation's District 9 Community Service Award for Attorneys 40 & Under on Tuesday, March 27.
Joseph is demonstrating to the world the impact and influence attorneys can have on their communities – he is an outstanding example of what is right about the legal profession. Joseph graduated from Miami University and Capital Law School and is a partner with Gottlieb, Johnston, Beam & Dal Ponte. Joseph has been named to "The National Trial Lawyers: Top 40 Under 40" for 2017. In his spare time, he is leading the next generation of volunteers through his service.
Joseph has been actively involved in Big Brothers, Big Sisters since 2012, serving both as a big brother and as a board member. He currently serves as president of the board of directors for Big Brothers Big Sisters Serving Muskingum, Guernsey, and Morgan Counties.
As described by his colleague Mollie S. Crooks, former executive director of Big Brothers Big Sisters, serving Muskingum, Guernsey, Morgan and Noble Counties, "Andrew is the volunteer that every non-profit dreams of recruiting. Andrew's impact and value as a Board member was immediate. He possesses wisdom beyond his years. His quiet demeanor, insightfulness, analytical and communication skills combined with a genuine caring attitude provided exemplary leadership for our Agency's board and staff."
Beyond his work with Big Brothers Big Sisters, in 2015, Joseph was appointed as a commissioner for the Muskingum Valley Park District Board of Commissioners. He is currently president of that Board. He's also served as an advisor for the Mock Trial Team at Bishop Rosecrans High School, his alma mater, since 2013. Joseph is a member of the ForeverDads Tribute to Fatherhood Committee. In addition, Joseph recently became a Fellow of the Ohio State Bar Foundation.
Joseph says his interest in community service comes from his parents. "My parents, Bill and Becky Joseph, taught me by their actions and not their words, that service to others without the expectation of recognition or reward is one of the greatest gifts we have to give. With a young and growing family, I have a vested interest in the health of my community. I like to believe that my service has a positive impact that will pay dividends that my children and their children will enjoy."
About the Award
The Community Service Award for Attorneys 40 and Under is presented to attorneys, 40 years of age or younger, who contribute substantial time and effort in service to a local social service or to a local civic, artistic or cultural organization. The service must be outside the recipients' practice of law and given without compensation. Emphasis is placed on current service. Recipients represent the ideals of the legal profession and, by example, are a credit to the profession.