Philip J. Truax Honored for Community Service by Ohio State Bar Foundation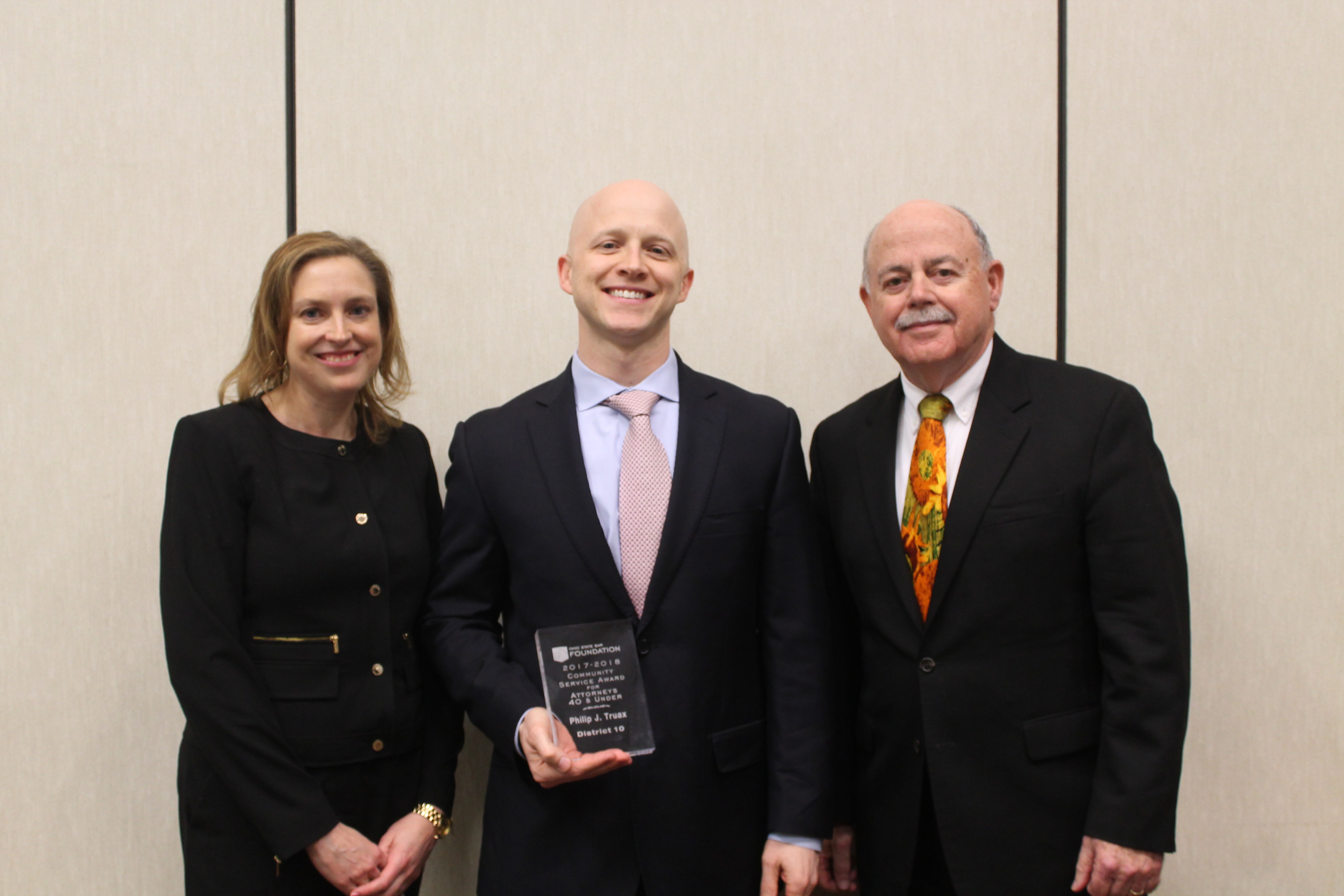 COLUMBUS, OH (March 30, 2018) – Philip J. Truax received the Ohio State Bar Foundation's District 10 Community Service Award for Attorneys 40 & Under on Wednesday, March 28.
Truax is demonstrating to the world the impact and influence attorneys can have on their communities – he is an outstanding example of what is right about the legal profession. Truax graduated from Ohio University and Case Western Reserve University School of Law and is director and real estate/construction practice group lead at Wickens Herzer Panza Cook & Batista in Avon. Since 2014, he has been recognized as a Super Lawyers Ohio Rising Star. In his spare time, he is leading the next generation of volunteers through his service.
Truax is a founding member of the Bridge Board for the Boys and Girls Clubs of Cleveland, which is the young professionals organization started in 2009 supporting the Boys and Girls Club. He moved from Board Development Chair to serving several years as a Trustee on the Executive Committee. Throughout his time on the Board, he actively participated in Boys and Girls Club activities with youth members at several inner city locations.
Truax is also a member of the Board of Directors for Leadership Lorain County. After serving as Governance Committee Chair, he now serves as Vice Chair of the Board. He also single-handedly launched the Leadership Lorain County Connections group in 2017, the first sustaining young professionals organization in Lorain County. In addition, Truax is an active youth sports coach in Avon, Ohio, coaching youth baseball, softball and soccer. He is also an active member of his church in Avon Lake, teaching Sunday school with his wife.
Truax's colleague Ron Soeder, president of Boys & Girls Clubs of Cleveland says, "I can honestly say that the board which is vibrant and strong today was largely due to Philip's commitment, drive and willingness to extend himself beyond his day job."
Truax says, "What volunteering has shown me is that we all have something to give, we all have something to share. In mentoring, I've found that I've been through a number of experiences in my career and life that I think can help a younger person, and I really enjoy sharing those experiences. When a child or young person not only observes good information, but receives it with empathy and care, they're far more likely to get something out of it and retain it. And giving love is just as satisfying as receiving it. We've all got that in us, whether for kids, young people, adults down on their luck or in a hole, or the elderly community. And I think we all need to use it – because it works."
About the Award
The Community Service Award for Attorneys 40 and Under is presented to attorneys, 40 years of age or younger, who contribute substantial time and effort in service to a local social service or to a local civic, artistic or cultural organization. The service must be outside the recipients' practice of law and given without compensation. Emphasis is placed on current service. Recipients represent the ideals of the legal profession and, by example, are a credit to the profession.