Jaime U. Kolligian Honored for Community Service by Ohio State Bar Foundation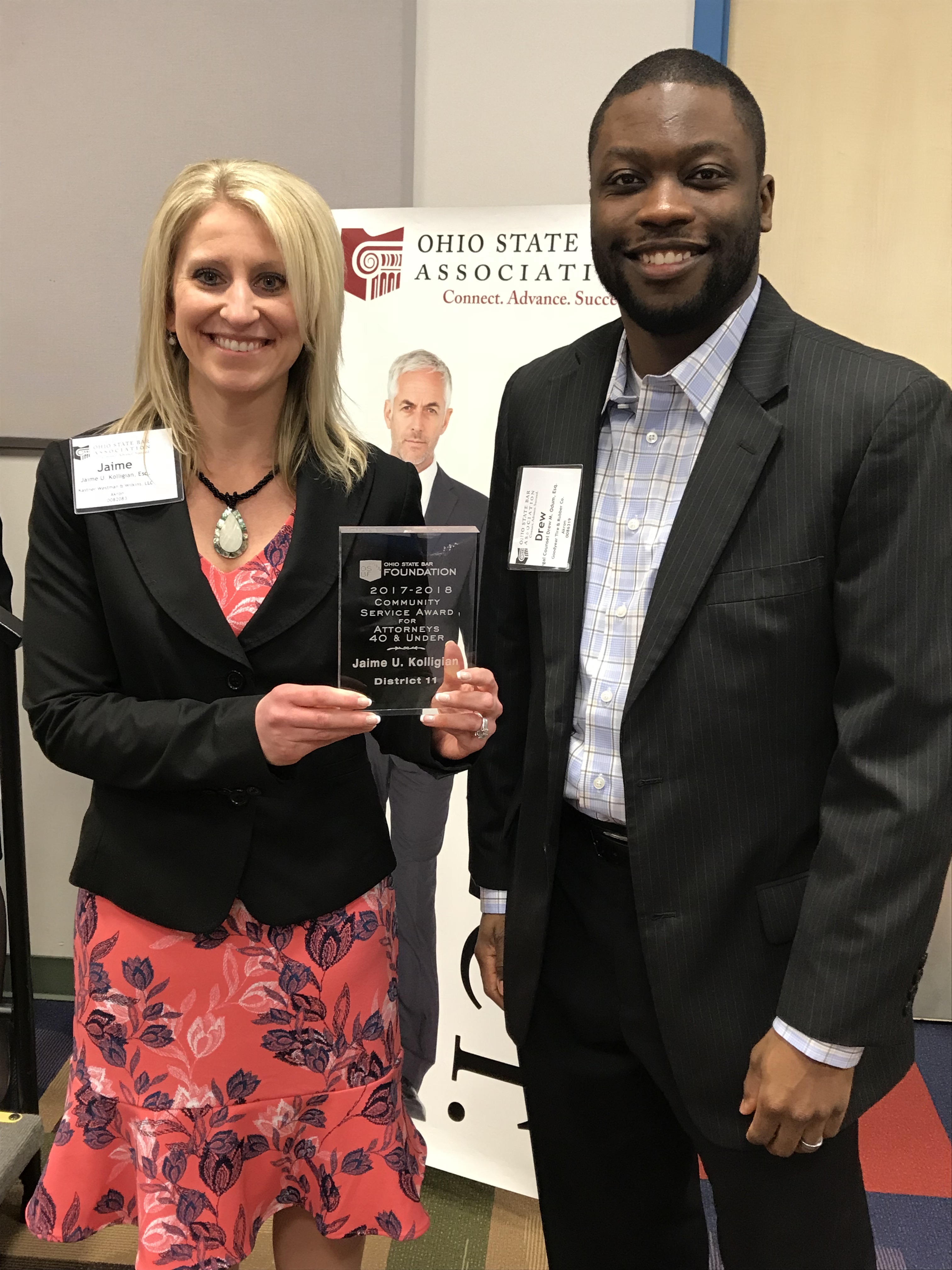 COLUMBUS, OH (April 23, 2018) –Jaime U. Kolligian received the Ohio State Bar Foundation's District 11 Community Service Award for Attorneys 40 & Under on April 17, 2018.
Kolligian is demonstrating to the world the impact and influence attorneys can have on their communities – she is an outstanding example of what is right about the legal profession. Kolligian graduated from Otterbein College and Cleveland-Marshall College of Law and is a shareholder at Kastner Westman & Wilkins in Akron. She is an OSBA-Certified Specialist in Labor and Employment law. In her spare time, she is leading the next generation of volunteers through her service.
Kolligian is a past committee lead and member of Torchbearers, an organization bridging the gap between non-profit leadership and leaders of the future in the greater Akron community. She also chairs the Cattle Baron's Ball Sponsorship Committee to benefit the American Cancer Society.
In addition, Kolligian serves on the Curriculum Development Committee for the Women's Network of Northeast Ohio. She's also an officer and member of the Summit County Volunteer Leadership Council for the American Cancer Society. In 2010, Kolligian and her husband cofounded an annual charity corn hole tournament that benefits special needs children, now raising over $10,000 each year for summer camp scholarships. Kolligian and her husband received the Akron Area YMCA Volunteer of the Year Award, in honor of their fundraising efforts.
"I feel truly humbled to be recognized for serving a community that has given me so much more than I could ever hope to return to it," Kolligian said. "My firm has always been 100 percent supportive of the causes that are near and dear to my heart.  It has been my privilege to serve the Greater Akron Community, and I have no plans to slow down anytime soon."
About the Award
The Community Service Award for Attorneys 40 and Under is presented to attorneys, 40 years of age or younger, who contribute substantial time and effort in service to a local social service or to a local civic, artistic or cultural organization. The service must be outside the recipients' practice of law and given without compensation. Emphasis is placed on current service. Recipients represent the ideals of the legal profession and, by example, are a credit to the profession.