Brandon D. Cox Honored for Community Service by Ohio State Bar Foundation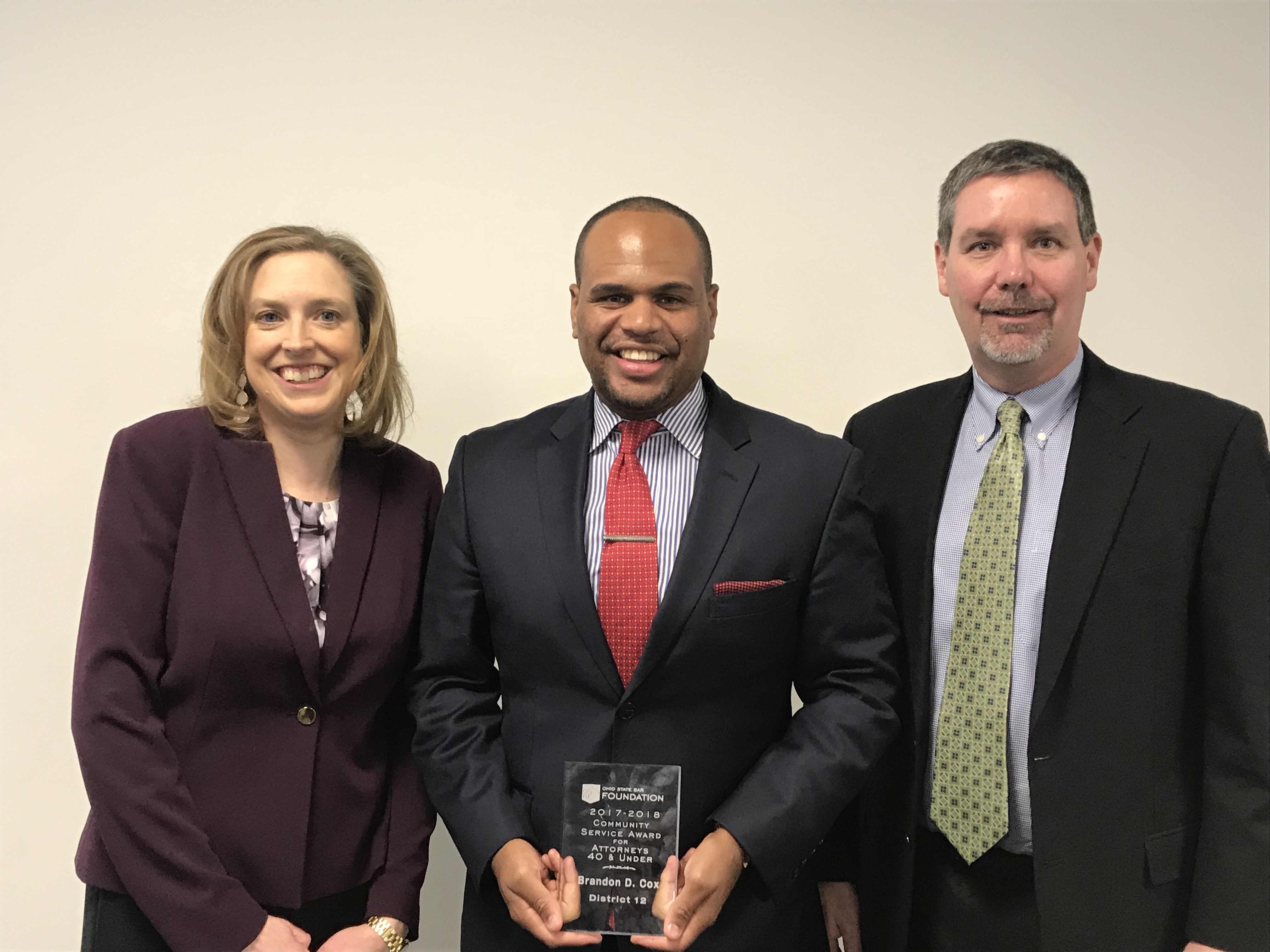 COLUMBUS, OH (April 23, 2018) – Brandon D. Cox received the Ohio State Bar Foundation's District 12 Community Service Award for Attorneys 40 & Under on April 18, 2018.
Cox is demonstrating to the world the impact and influence attorneys can have on their communities – he is an outstanding example of what is right about the legal profession. Cox graduated from Georgetown University and Cleveland-Marshall College of Law and is counsel with Tucker Ellis in Cleveland. Recognized on the list of "40 Under 40 - Nation's Best Advocates" by the National Bar Association in 2017, Brandon also received the Outstanding Alumni Spotlight Award by the Black Law Students Association (BLSA) last year. In his spare time, he is leading the next generation of volunteers through his service.
Cox serves as First Vice President with the Norman Minor Bar Association. As part of the Tucker Ellis/Cleveland Early College High School Pipeline Partnership, he has served as a co-coordinator of its mock trial teams that compete in the Cleveland Mock Trial Championships. Under his leadership, the Cleveland Early College High School mock trial teams have won five championships.
In addition, Cox mentors the firm's summer legal interns through the CMBA Louis Stokes Scholars Program. He is also a member of the Tucker Ellis Diversity Committee and editor of its Diversity Matters newsletter.
He serves as a member of Cleveland Early College High School's Advisory Group, composed of local business and education leaders who provide the program with additional resources to augment its mission to improve the lives of its students. Cox also actively supports minority law students at Cleveland-Marshall College of Law, his alma mater, as the coach of the Cleveland-Marshall Moot Court Team that won the 2017 Fredrick Douglas Moot Court Competition.
His colleague at Tucker Ellis, Carter Strang, says, "As one of the volunteer mock trial coaches with Brandon, I can speak from first-hand knowledge to his effectiveness as a coordinator and coach. He gets the best out of every student and has an uncanny ability to be empathic yet firm. And his optimism is infectious –the students always approach each competition with a can-do spirit. Of course, he is an excellent role model."
About the Award
The Community Service Award for Attorneys 40 and Under is presented to attorneys, 40 years of age or younger, who contribute substantial time and effort in service to a local social service or to a local civic, artistic or cultural organization. The service must be outside the recipients' practice of law and given without compensation. Emphasis is placed on current service. Recipients represent the ideals of the legal profession and, by example, are a credit to the profession.