Margaret Boyd LaPlante honored for community service by Ohio State Bar Foundation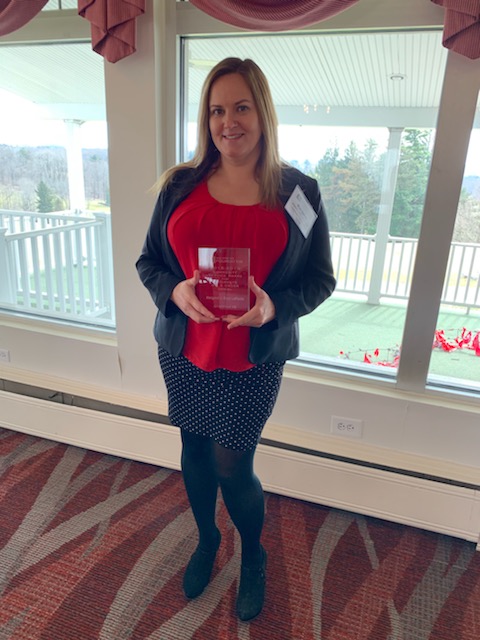 Columbus, OH (Mar. 8, 2018) – On Tuesday, February 26, the Ohio State Bar Foundation (OSBF) awarded its District 15 Community Service Award for Attorneys 40 & Under to Margaret Boyd LaPlante.
As former Assistant Prosecuting Attorney for Guernsey County, Boyd LaPlante has spent her career connecting with countless children and their families. In that role, she also worked closely with schools and the probation department to implement an educational program that teaches children the risks incorporated with sexting and cyberbullying, which has reduced the number of cases of sexting in the county.
Currently, Boyd LaPlante serves as attorney for the Guernsey County CASA Program and is a partner at Tribbie Plummer, Church & LaPlante. She is a member of the Guernsey County Law Library Resources board and coaches youth soccer.
"OSBF was thrilled to honor Maggie for her service," said Lori Keating, Executive Director of OSBF. "The Community Service Award for Attorneys 40 and Under is for those who contribute their time, service and talent to their communities to bring improvement – Maggie is clearly doing just that."
About the Award: The Community Service Award for Attorneys 40 and Under is presented to attorneys, 40 years of age or younger, who contribute substantial time, talent, and effort serving their community. The service must be outside the recipients' practice of law and given without compensation. The recipients represent the ideals of the legal profession and, by example, are a credit to the profession. Award nominations for Fall 2019 and Spring 2020 will be accepted through June 1, 2019. For more information and to nominate, visit OSBF.org.