Yukiko Yee honored for community service by Ohio State Bar Foundation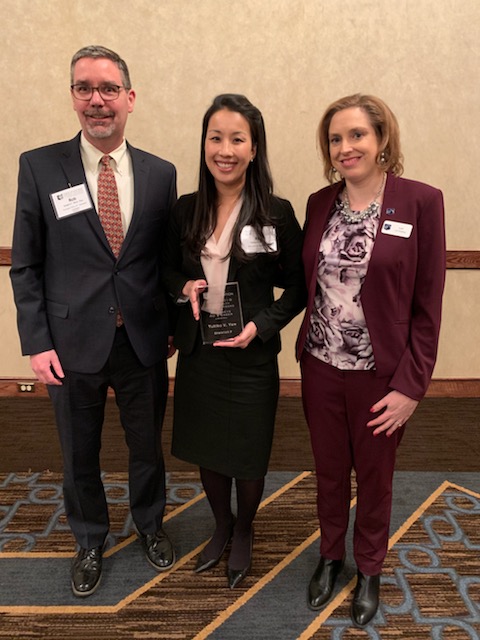 Columbus, OH (Mar. 8, 2018) – On Monday, March 4, the Ohio State Bar Foundation (OSBF) awarded its District 7 Community Service Award for Attorneys 40 & Under to Yukiko Yee.
Yee is a Senior Assistant Attorney General with the Ohio Attorney General's Office, Consumer Protection Section, Economic Crimes Unit. She's a dedicated crime-fighter who specializes in complex, white-collar fraud cases in Ohio. In her role, she routinely makes herself available as a resource to prosecutors across the state and dedicates her time as a volunteer speaker and instructor on various fraud-related issues.
Yee regularly speaks on the importance of diversity in the legal community. An issue close to her heart, she helped brainstorm and launch two diversity scholarships through the Ohio Women's Bar Foundation. Yee is also the Founder and Principal Chair of the Ohio Women's Bar Association Government Subcommittee.
"It was OSBF's privilege to honor Kiko with our District 7 Community Service Award for Attorneys 40 and Under," said Lori Keating, Executive Director of OSBF. "She constantly has an optimistic, can-do attitude and does so much to better the Columbus community."
About the Award: The Community Service Award for Attorneys 40 and Under is presented to attorneys, 40 years of age or younger, who contribute substantial time, talent, and effort serving their community. The service must be outside the recipients' practice of law and given without compensation. The recipients represent the ideals of the legal profession and, by example, are a credit to the profession. Award nominations for Fall 2019 and Spring 2020 will be accepted through June 1, 2019. For more information and to nominate, visit OSBF.org.