Megan Glowacki honored for community service by Ohio State Bar Foundation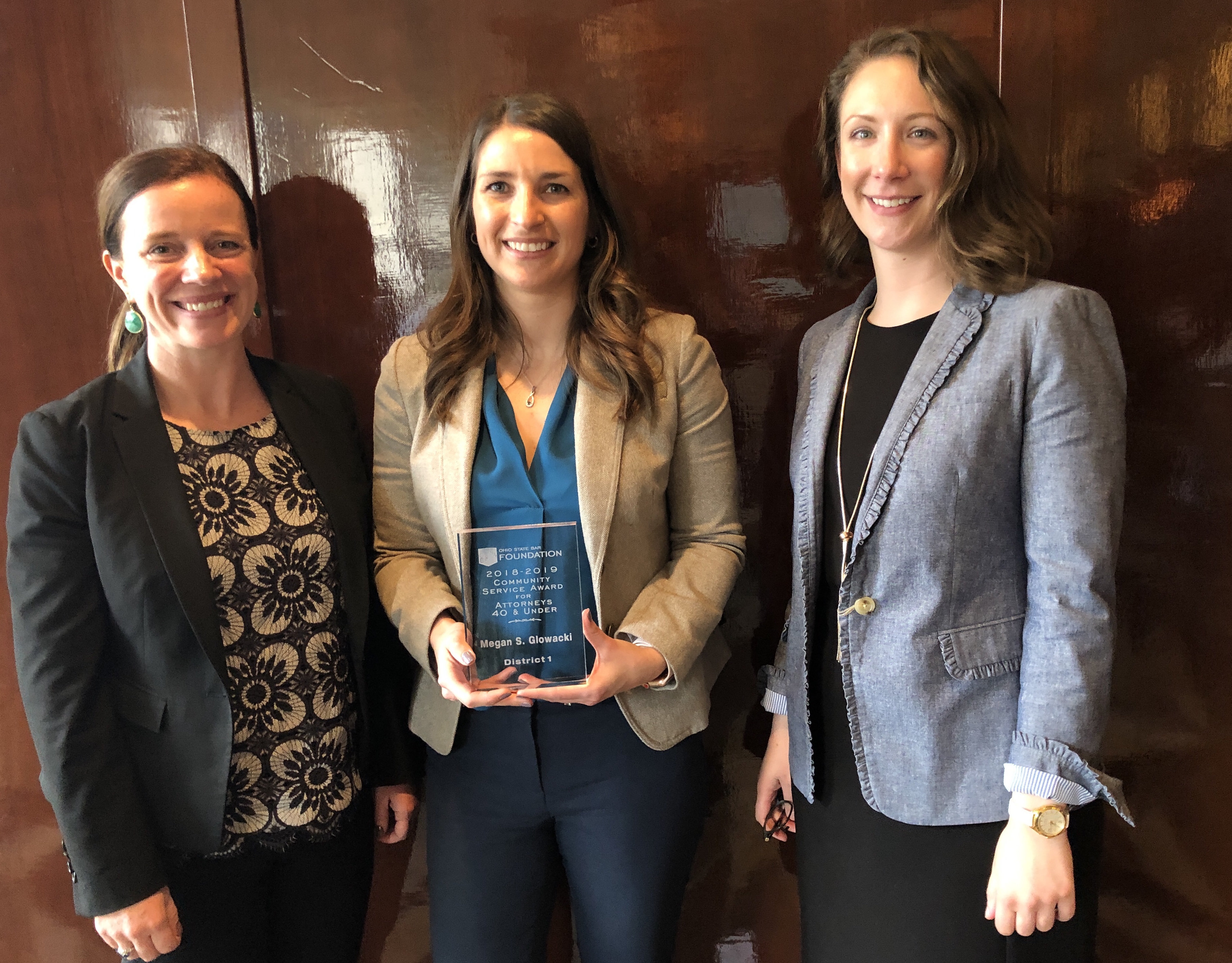 Columbus, OH (Apr. 5, 2019) – On Friday, April 5, the Ohio State Bar Foundation (OSBF) awarded its District 1 Community Service Award for Attorneys 40 & Under to Megan Glowacki.
Glowacki has been a labor and employment lawyer for nine years, enjoying the opportunity she has to roll up her sleeves and dig in with her clients to find solutions to problems.
Outside of work, Glowacki stays active serving her community. She volunteers regularly with Pro Bono Partnership of Ohio, which is a recent OSBF grantee and the 2018 awardee of OSBF's Outstanding Program or Organization Award for its pro bono work for nonprofits in Cincinnati and beyond. Glowacki was one of PBPO's first volunteers, and she continues volunteering with them to this day, helping and guiding local nonprofits that may not have the budget for legal services.
"Megan was well-deserving of our District 1 Community Service Award for Attorneys 40 and Under," said Lori Keating, Executive Director of OSBF. "Her dedication to the PBPO is inspiring. Providing pro bono assistance for a nonprofit organization so that it can use its resources to execute its mission affects not just a person, it impacts a community."
About the Award: The Community Service Award for Attorneys 40 and Under is presented to attorneys, 40 years of age or younger, who contribute substantial time, talent, and effort serving their community. The service must be outside the recipients' practice of law and given without compensation. The recipients represent the ideals of the legal profession and, by example, are a credit to the profession. Award nominations for Fall 2019 and Spring 2020 will be accepted through June 1, 2019. For more information and to nominate, visit OSBF.org.
About the Ohio State Bar Foundation: The Ohio State Bar Foundation's mission is to advance the public's understanding of the law and build a better justice system. Through our grants and programs, we educate and perform outreach to the public to make the law fair for all Ohioans. For more information about the Ohio State Bar Foundation, please visit OSBF.org.