Charles Elsea honored for community service by Ohio State Bar Foundation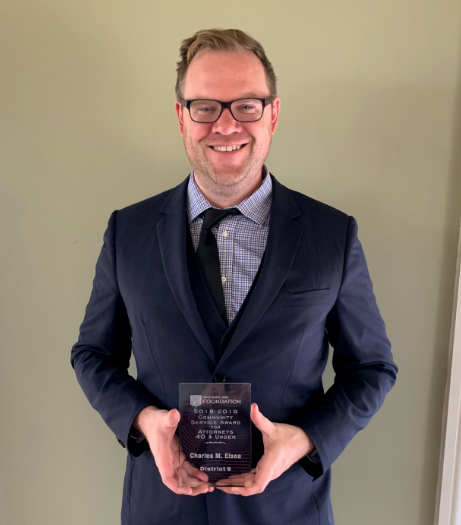 Columbus, OH (Apr. 18, 2019) – On Wednesday, April 17, the Ohio State Bar Foundation (OSBF) awarded its District 9 Community Service Award for Attorneys 40 & Under to Charles Elsea.
Elsea is a partner at Stebelton Snider where he focuses his practice on disputes involving real estate, zoning, and environmental matters, and small and closely-held business issues. Probate and trust litigation also constitute a significant portion of his practice.
Elsea served as legal advisor to the Lancaster High School mock trial team for five years. He is a current member of multiple bar associations and sits on the Board of Early Childhood Education for Redeemer Lutheran School and the Lancaster Parks and Recreation Board of Commissioners. In the past, he was President of Big Brothers Big Sisters of Fairfield County.
"Charles stands as an excellent example of a worthy recipient of our Community Service Awards for Attorneys 40 and Under," said Lori Keating, Executive Director of OSBF. "He gives his time and talents to directly impact his community and those who live there."
About the Award: The Community Service Award for Attorneys 40 and Under is presented to attorneys, 40 years of age or younger, who contribute substantial time, talent, and effort serving their community. The service must be outside the recipients' practice of law and given without compensation. The recipients represent the ideals of the legal profession and, by example, are a credit to the profession. Award nominations for Fall 2019 and Spring 2020 will be accepted through June 1, 2019. For more information and to nominate, visit OSBF.org.
About the Ohio State Bar Foundation: The Ohio State Bar Foundation's mission is to advance the public's understanding of the law and build a better justice system. Through our grants and programs, we educate and perform outreach to the public to make the law fair for all Ohioans. For more information about the Ohio State Bar Foundation, please visit OSBF.org.
###
Editor's Note: Photos from the luncheon honoring Elsea are available upon request. If you would like to speak with him directly, please contact Jordann Dillard at JDillard@OSBF.net or 614-487-4450.