OSBF announces recipient of 2020 Statewide Community Service Award for Attorneys 40 and Under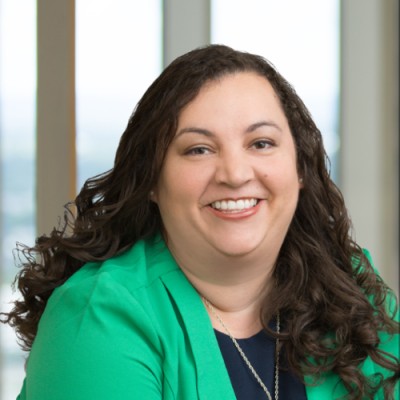 The Ohio State Bar Foundation (OSBF) has awarded Katrina Thompson, of Columbus, with its 2020 Statewide Community Service Award for Attorneys 40 and Under. This award is given each year to an Ohio attorney, age 40 and under, who contributes substantial time and effort in volunteering within his or her community.
"Katrina Thompson goes above and beyond serving the Columbus community, and we want to highlight the work she does by presenting her with this Award," said OSBF President Mark Kitrick. "She is dedicated to Central Ohio-based nonprofits, whether volunteering her time or undertaking leadership on a board. In addition to her service to the general public, she is committed to improving the legal community, working to promote diversity and inclusion in the practice of law."
A partner at Barnes & Thornburg LLP, Thompson is a real estate attorney who focuses on community development and tax credit finance. She also supports programs and initiatives that promote equity for all employees at the firm. Thompson is co-chair of BTLatinx, Barnes & Thornburg's Hispanic and Latino talent resource group, and a member of the firm's Diversity and Inclusion Committee.
In her community, Thompson has given her time and talent to organizations working to make a difference. She is a past president and trustee of the Women Lawyers of Franklin County (WLFC), a bar association for women attorneys in Central Ohio. Established in 1942, the WLFC promotes an honest exchange of ideas and is dedicated to the professional advancement of women through leadership, educational programming, networking, and community outreach. Thompson also serves on the Childhood League Center Board and is a parent advisor for The Mothership, Inc., a nonprofit that supports parents of children with special needs.
In 2019, Thompson was a member of Leadership Columbus, and her class was given the responsibility of creating community impact projects. Thinking creatively, Thompson's class volunteered to finance and build dog houses for Star House, an organization that provides local homeless youth with a safe place to stay and crucial connections to stabilizing resources. Now with housing available for animal companions, Star House better meets the needs of young adults who have pets, and the organization's ability to provide vital support has grown.
In addition to Leadership Columbus, Thompson is a graduate of the Ohio Women's Bar Foundation (OWBF) Leadership Institute, which works to empower women to hone their leadership, business development, and networking skills.
"I have known Katrina personally for many years and have seen her step up to serve our Columbus community with leadership that is thoughtful, warm, and inclusive," said OSBF Executive Director Lori Keating. "I am absolutely delighted that Katrina is receiving this Award."
Thompson earned her law degree from Ohio Northern University Pettit College of Law, where she graduated as valedictorian of her law school class. During law school, she was the managing editor of the Law Review, and president of Street Law, a program that teaches mock trial in local high schools. Before joining Barnes & Thornburg, Thompson was a senior associate at Squire Patton Boggs in Columbus and a judicial extern for then Ohio Supreme Court Justice Evelyn Lundberg Stratton.
To view the OSBF's celebration video featuring Katrina Thompson, visit OSBF.org/2020Awards.