Ohio State Bar Foundation names Judge Michael J. Newman recipient of Ritter Award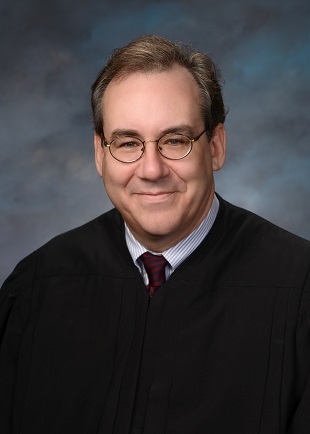 The Ohio State Bar Foundation (OSBF) is pleased to announce that the Honorable Michael J. Newman is the recipient of the 2020 Ritter Award. This award is given each year to recognize an Ohio attorney's accomplishments in attaining and promoting the highest standards of professionalism, integrity, and ethics in the practice of law, while assisting other attorneys, the courts, and the public to improve the justice system in Ohio.
"Judge Michael Newman's ongoing, significant work to support students, veterans, and so many others exemplifies the spirit and meaning of the Ritter Award," said OSBF President Mark Kitrick. "The Judge's steadfast commitment to the legal system and his efforts to promote integrity and diversity are inspiring. He is a venerable, humble stalwart. What he does every day is the paragon of a dedicated and caring attorney. The Foundation is pleased to honor him with our Award and highlight his selfless, dedicated labor that has transpired throughout his career."
After serving as a United States Magistrate Judge in the Southern District of Ohio since 2011, the Honorable Michael J. Newman was recently confirmed as the United States Federal District Court Judge for the Southern District of Ohio, pending President Trump's signature. The Southern District has court locations in Cincinnati, Columbus, and Dayton and serves more than five million Ohioans in 48 counties. Judge Newman was nominated by the President in February based on recommendations from Ohio Senators Rob Portman and Sherrod Brown.
Judge Newman led the effort to create the first Federal Veterans Treatment Court in the Southern District of Ohio and has served as its presiding judge since the fall of 2015. With Wright-Patterson Air Force Base and the Dayton VA Medical Center located in the community and the large number of military veterans residing in the area, Southwest Ohio benefits from a court that concentrates on veterans' unique issues. Judge Newman's veterans court consists of veterans who have been charged with minor offenses. In many cases, the court prescribes treatment and guidance rather than incarceration to address mental health or substance abuse issues soldiers may face upon their return from duty.
The Honorable Judge Newman also promotes civics education, as well as access to justice and diversity initiatives. Judge Newman has personally invited numerous high school groups from the Dayton area to his courtroom to introduce them to the federal court system. He serves on the board of the Law & Leadership Institute, which works with underserved high school students, using interactive experiential methods to teach them about the law and equip them with leadership skills so that they can succeed in college and beyond. When Judge Newman served as the Federal Bar Association's President from 2016-2017, he started a Civics and Service to Others initiative that brings thousands of young people from across the country together to meet with federal judges to learn about civics and the third branch of government.
"Federal Magistrate Newman is not about self-promotion – he helps others, whether it be high school students, law school students, or new lawyers," said OSBF Executive Director Lori Keating. "His civics education outreach efforts, both locally and nationally, have built bridges between the public and the judiciary. I have known Judge Newman for many years, and he is generous with his time, unassuming yet brilliant, and abundantly kind. I am very happy that the OSBF is adding Judge Newman to our list of prestigious Ritter Award winners."
Prior to taking the bench, Judge Newman was a partner at Dinsmore & Shohl in Cincinnati, where his practice focused on labor and employment, business litigation, and more. He created and administered Dinsmore's pro bono appellate program in the Sixth Circuit. While at the firm, Judge Newman was named a Leading Lawyer, an Ohio Super Lawyer, and one of the Best Lawyers in America in Labor & Employment Law.
A respected leader in the legal community, Judge Newman has held key leadership positions at the Cincinnati, Dayton, and Ohio State Bar Associations. He also has been named a Fellow by the OSBF, the American Bar, the Dayton Bar, and the Federal Bar Foundations.
Judge Newman's work has not gone unnoticed. He has been recognized by the Federal Magistrate Judges Association for his valuable and dedicated service, and he received the Boots Fisher National Public Service Award, which is given annually to one lawyer for exemplary community, public, and charitable service. Judge Newman also received the Federal Bar Association's President's Award for his leadership, extraordinary service, and guidance.
To view the OSBF's celebration video featuring Judge Michael Newman, visit OSBF.org/2020Awards.