S. Andrew Sturgill honored for community service by Ohio State Bar Foundation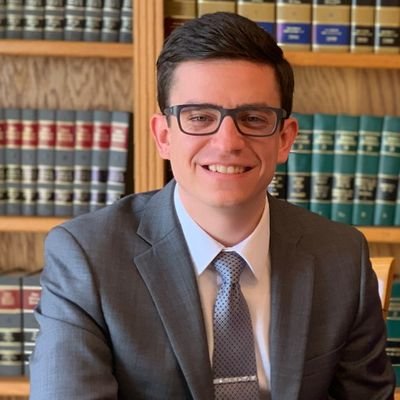 Portsmouth, OH (November 2021) – The Ohio State Bar Foundation (OSBF) is pleased to announce S. Andrew Sturgill as a recipient of its Community Service Award for Attorneys 40 and Under. The award is given to attorneys throughout Ohio who work to make a difference in their local communities, outside of their practice area, and without compensation. By recognizing outstanding attorneys, the OSBF promotes excellence in the legal profession.
Through his leadership and community service, Sturgill is making a positive impact on Portsmouth and its surrounding area. His service includes volunteering with the Scioto County Mock Trial Program and sponsoring the Lucasville Kiwanis programs as well as the Wheelersburg High School Softball teams. He participates in and promotes various community service activities, including Breast Cancer Awareness, Fueling up for Frontline Workers, and the Dr. Martin Luther King Jr. Scholarship Breakfast. Sturgill also volunteers with the Southeastern Ohio Legal Services offering pro bono legal services for individuals preparing for proceedings in domestic relations court. Andrew was nominated by Anna Davis, Staff Attorney, 4th District Court of Appeals.
"Andrew is highly intelligent, hard-working and energetic, professional, friendly, and service-oriented. He is also a humble person and does not emphasize his own achievements and activities, although he is always willing to encourage and support others," said Davis, in her nominating letter.
Sturgill is a graduate of Shawnee State University and the University of Toledo College of Law. He returned home to Portsmouth upon graduation to serve as a court-appointed attorney for Scioto County. He went on to serve as a staff attorney for the Fourth District Court of Appeals and served as Guardian Ad Litem in the Scioto County Juvenile Court. He has also served as an officer in the Scioto County Bar Association. He is currently managing partner at the law firm of Buckler & Sturgill, LLC.
"Andrew is an outstanding role model, and his willingness to serve is an inspiration to us all," said OSBF Executive Director Lori Keating. "We're proud to honor Andrew with this award, and we applaud his service."
Sturgill received the Community Service Award for Attorneys 40 award on Wednesday, November 17 at the Shawnee Lodge & Conference Center during an Ohio State Bar Association luncheon.