Katherine S. Decker Honored for Community Service by Ohio State Bar Foundation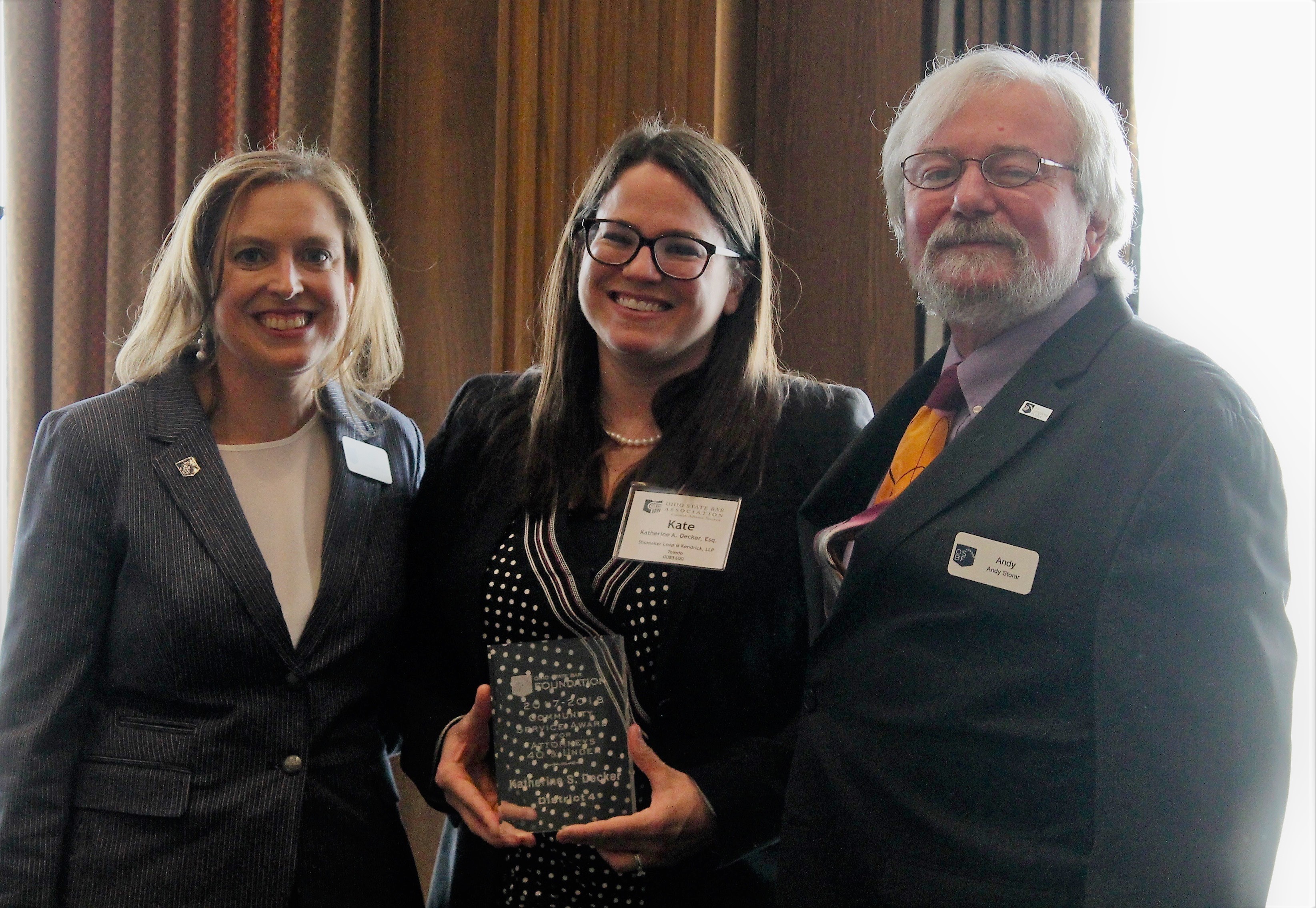 Columbus, OH (Sept. 20, 2017)—Katherine S. Decker received the Ohio State Bar Foundation's District 4 Community Service Award for Attorneys 40 & Under on September 20, 2017.

Decker graduated magna cum laude from Vanderbilt University and received her law degree from The Ohio State University Moritz College of Law. Decker is an associate at Schumaker, Loop & Kendrick, LLP in Toledo, Ohio.

In her spare time, Decker is leading the next generation of attorneys through dedication to her community and volunteer work which includes:

Serving as Co-Chair of Leadership Shumaker Toledo, her firm's philanthropic group that raised more than $15,000 to support local non-profit organizations in the community.
Being a member of the firm's Diversity Committee and leading the Toledo chapter of Women's Leadership Initiative that is dedicated to promoting, developing and fostering female attorneys.
Individually, she raised more than $5,000 for the Leukemia & Lymphoma Society's (LLS) Man & Woman of the Year campaign and now serves on the Toledo Advisory Board for LLS.

Speaking about the LLS Man & Woman of the Year campaign, Decker said "While I enjoyed the competitive portion of the campaign, I was more impressed by the overwhelming support of the community and the incredible results of the candidates' efforts. Over that ten-week period, the candidates raised $254,000, which will go back into the local community in the form of patient resources and services. Hearing that final figure at the grand finale event was nothing short of inspiring and made me so proud to have been a part of the campaign and to be a part of this community."

About the Award

The Community Service Award for Attorneys 40 and Under is presented to attorneys, 40 years of age or younger, who contribute substantial time and effort in service to a local social service or to a local civic, artistic or cultural organization. The service must be outside the recipients' practice of law and given without compensation. Emphasis is placed on current service. Recipients represent the ideals of the legal profession and, by example, are a credit to the profession.